TLDR: CGE's bargaining team and a dedicated audience bargained for nearly 17 hours, finishing a little after 6:30am Thursday morning. We pushed for a strong contract and won. OSU admin agreed to improvements in existing language nearly across the board and the addition of fundamentally new and groundbreaking language too. Our wins from the final session include the retention of COLA language during a pandemic, increases to the minimum FTE, expanded gender-neutral restroom and locker-room access, paid family leave, stronger protections against discrimination and harassment, a University-administered hardship fund, and more!
__________
After a grueling 16.5 hour marathon Zoom bargaining session, CGE and OSU have come to a Tentative Agreement (TA) on our entire Collective Bargaining Agreement (CBA)!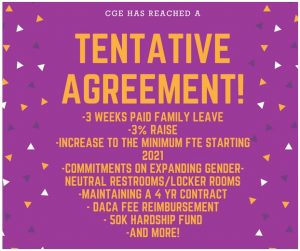 With eight articles still on the table on Wednesday, we knew we had a long night ahead of us. The final session included long, deliberative caucuses, especially since OSU "packaged" the proposals all together, refusing to TA any of them individually. Amazingly, fellow CGE members stayed with us all night long to witness the process, send us encouraging notes and hilarious memes, and even delivered the bargaining team snacks and refreshments in the middle of the night. THANK YOU to everyone who worked so diligently to get us here. Through laughter, tears, frustration, triumph, and dedication, we made it to morning and reached an agreement that improves our contract for all members in nearly every way. Read on for more information about the following articles: Recognition, Term of Agreement, Salary, Tuition Waiver, Summer Session, Insurance, Restrooms, Family Leave and Policies, Nondiscrimination and Anti-Bullying, and a Letter of Agreement on a Hardship Fund. The entire contract will be ratified by a member-wide vote in the near future, and remember that we had several other articles that we already reached agreement on. You can read about them more on previous blog posts, as well as access all of the articles we worked on this year at CGE's website.
Late into the strenuous negotiation session, in the early hours of Thursday morning, OSU tried to destroy our union. They passed us a package counter that would have increased the number of years between bargaining sessions, in exchange for modest improvements to some of the proposals outlined above. While this could have provided minor financial benefit to all current grad employees, this offer was a Trojan horse aimed directly at a key source of our power: the ability to bargain a full contract every four years with a partial reopener every two. This arrangement was decided on by CGE in its early years because of its strength as a long-term strategy for maintaining the institutional knowledge of the union amid a constantly rotating membership. OSU knows this, we know it, and each of us knows the other knows it. You know? Thus, for our bargaining team, accepting this deal was out of the question. Our contract is one of the strongest grad-employee contracts in the country. That didn't happen after a single bargaining year. It came from 20 years of CGE members bargaining and fighting for progress and institutional tools for those who would come after them. We intended to keep that flame of the future burning, and we did.
Initial proposals by CGE's bargaining team imagined an OSU with just policies towards the graduate employees who contribute a significant share of the labor to make OSU the academic institution it is. The gains which were the final result of this year's bargaining are small in comparison with that initial vision. When taken in context of the entire process though, continued progress amidst what will undoubtedly be one of the worst years in higher education is a monumental victory. As pay cuts and layoffs plague colleges and universities amidst the worst economic depression since the Great Depression, this contract will help ensure our members will have the resources they need to make it through these challenging times while genuinely increasing equity at this University in groundbreaking ways. The language we won on paid family leave, hardship fund, gender-neutral restroom and locker-room access, DACA fee coverage, certain international student travel reimbursements, anti-discrimination training for grad-worker supervisors, and language on housing are completely new to the contract. These are victories that open doors for our most vulnerable members, which makes the entire union and thus every one of us stronger. Every single one of these victories is also not an end in itself, but a starting point from which to continue transforming this University into a systemically just environment accessible to all bodies and minds.
We will continue to bargain and fight for all OSU graduate workers. We fight for parents, for students of color, for international students, for our LGBTQIA+ community, for those with abilities that are mismatched to rigid institutional environments, and for all those who experience marginalizations large and small in their daily lives at this institution. We do this because all of you diverse and brilliant human beings are CGE and our strength comes from you. If you are not strong, the union is not strong. We will continue fighting for graduate employees until OSU is the just, equitable institution its admins theorize about in emails but which our members actually deserve and know we can get. After all, OSU works because we do!
We continue to encourage grad employees to track their hours to make sure they do not exceed the FTE for which they are paid, and we remind grad employees that there is a process for which they may have their FTE increased to compensate for their increased workload. Feel free to get in touch with our NEW! organizer, Sarah Piscioneri at organizer@cge6069.org for more information.
CGE has a mutual aid caucus! If you need meal prep, childcare, moving assistance, etc., you can request mutual aid. You can also volunteer to give mutual aid to assist others as well! We are also accepting applications for the Hardship Fund. What's a hardship? It's any non-recurring issue including medical emergencies, legal services, housing deposits, evictions, maintenance, travel funds for a death in the family, etc., and child care costs. Find out more here!
Do you have comments, questions, or feedback for the CGE bargaining team? You can leave feedback (which will not be published on the website) here: