Mission Statement
"Practicing mutual aid is the surest means for giving each other and to all the greatest safety, the best guarantee of existence and progress, bodily, intellectual and moral."
― Peter Kropotkin, Mutual Aid: A Factor of Evolution
The Mutual Aid caucus is dedicated to using our combined talents and abilities to provide help to our fellow graduate students in times of material, emotional, and mental need.  We will collaborate with other caucuses to identify and address opportunities for aid.
We aim to provide assistance to our comrades in several ways including, but not limited to the following: welfare visits, meal prep, moving assistance, hosting a community closet, child/pet watching, etc.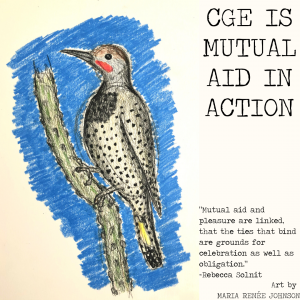 COVID-19 Support Network
CGE is coordinating resources and volunteers during COVID-19. Please fill out one of the forms below if you need support or if you can volunteer to help. Also stay updated on OSU COVID-19 response at https://www.cge6069.org/2020/03/14/covid-19-faqs/
Donate to our Hardship Fund
Our Hardship Fund is mutual aid in action!
Our CGE Hardship Fund provides grants for graduate employees in emergency financial need. We have awarded over $40,000 in grants over the course of one year! This resource is currently completely funded by member dues, and we are seeking investments from OSU to maintain the longevity of this program. You can help us keep the Hardship Fund alive with a donation!