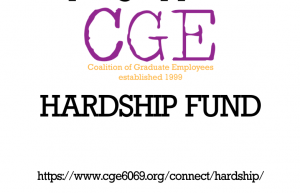 CGE's hardship fund is open for Summer 2021 applications! This fund is intended to help OSU graduate students with unplanned or irregular expenses. These include moving costs, medical emergencies, funerals, travel, childcare, legal services, and many other expenses. If you are unsure whether your expense qualifies for the hardship fund, please apply anyway – the application process is fast and there is no downside to applying. The application period will run from September 1st through September 14th.
All OSU grads are eligible. You don't need to be a dues-paying CGE member, or even a member of the bargaining unit (which is all GRAs and GTAs). You only need to be a current OSU grad student. Not all grads receive these emails, so please share this info with any friends and coworkers you think would benefit.
This term, we are prioritizing funds for international grads. This is in recognition of the fact that most funding sources are exclusive to domestic students, despite the particular and significant hardships incurred on international grads by overseas pandemic conditions and travel restrictions.
Other priority groups include: queer and trans Black, Indigenous, and people of color (QTBIPOC); grads without a summer appointment; and grads who have not previously received CGE hardship funds. These metrics are for priority, not eligibility, so you are still encouraged to apply if you do not belong to one of these groups.
There are no strings attached to the hardship fund and you will never be asked to pay back any funds you receive. This model works on the principle of mutual aid, which means the fund is community-supported and community-driven in a spirit of good faith and reciprocity. Funding support comes from associate and legacy CGE member dues, from fundraising efforts, and from our parent union AFT (the American Federation of Teachers).
Funding decisions are made entirely by a committee of your fellow grads, who are volunteering their time to review applications (with identifying information stripped from the application beforehand). If you receive funding, you will be asked (but not expected) to serve on a future hardship fund committee, so that future applicants can receive the same support. Our deepest thanks go to this term's volunteer committee for their dedication to helping their community during this second pandemic summer.
The application can be found here.
You must be a member of your union to be eligible for funding. Our committee of 3 or more members will review the anonymous applications and make decisions by September 17. 
This is not immediate or emergency funding – if you need assistance right away, contact our Mutual Aid caucus and we can try to connect you to resources and members who can try to help!