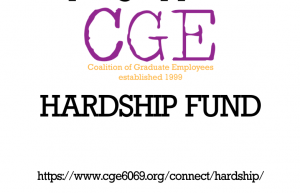 As of Spring 2021, CGE is happy to announce the reopening of our hardship fund – Application here. The CGE Hardship Fund exists to support each other when we are facing significant financial hardship. Your union is able to support this Fund and provide small micro-grants through crowd-sourcing and assigning associate and legacy member dues directly to the hardship fund.
In contract negotiations last year, your team fought hard to get direct financial support from OSU. While they refused to directly support CGE's established hardship fund, they did agree to start an OSU administered fund for grad students starting in fall of 2021. CGE's fund will work as a supplement to this incredible win – BIG Shout out to our 2020 bargaining team!
We prioritize funding Black, Indigenous, and People of Color (BIPOC) communities, International employees and those marginalized by citizenship status, disability, working parents, women / queer folx, and their intersections due to historical and ongoing structural inequities in society.
Our committee will keep all identifying information confidential and only your President and Operations staff will access and communicate through email as needed. They will have no say on who is approved for support.
You must be a member of your union to be eligible for funding. Our committee of 3 or more members will review the anonymous applications and make decisions by Week 4 of each term. You must submit your application by week 4.
This is not immediate or emergency funding – if you need assistance right away, contact our Mutual Aid caucus and we can try to connect you to resources and members who can try to help!