8th Annual CGE Brew-Off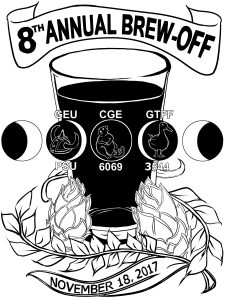 Saturday, November 18th
7:00PM
Odd Fellows Hall
223 SW 2nd St.
Come one, come all, to the 8th ANNUAL CGE BREW OFF! Who will take home the coveted Brew Off trophy this year?
If you've never been to the Brew Off before, you're in for a treat!
The CGE Brew Off is a homebrew competition between the graduate student unions at Oregon State University (CGE), University of Oregon (GTFF), and Portland State University (GEU). Brewers brew, attendees vote — and may the best beer (or cider, or wine, or mead, or kombucha…) win!
All proceeds go the the Linn Benton Food Share.
TICKET COST: $15
WHAT YOU GET: Unlimited tastes and a custom-designed pint glass.
WHAT TO EXPECT:
– More than 30 homebrews!
– Live music by Mons La Hire and Dennis Monroe!
– Beers from Block 15, Boneyard, Deluxe, Flat Tail, Mazama, & Sunriver!
– Cider as well as beer, both home brew cider and 2 Towns!
– Pizza from Demaggio's for sale!
WHERE TO BUY TICKETS: At the door! Also, limited pre-sales are available to CGE members in the CGE office (101 NW 23rd) on Friday, 11/10 and Monday, 11/13, from 9am-5pm. Sales limited to 2 tickets per person.
Limited pre-sale tickets are available to CGE members in the CGE office (101 NW 23rd) on Friday, November 10th and Monday, November 13th 9am-5pm. Each member may purchase up to 2 tickets.
*** VOLUNTEERS NEEDED! ***
Volunteers will benefit from $5 off their ticket price (day-of purchases only). If you'd like to volunteer to help with the event, complete this google form: https://goo.gl/forms/9LLrk8szKvYYv7gU2
Thanks to our sponsors: 5th Street Growlers, AFT-OR, Bellhop, Block 15 Brewing, Boneyard Brewing, Corvallis Brew Supply, Deluxe Brewing, Demaggio's Pizza, Flat Tail Brewing, Mazama Brewing, McMenamins Pub, Odd Fellows Hall, Sun River Brewery, 2 Towns Cider House!