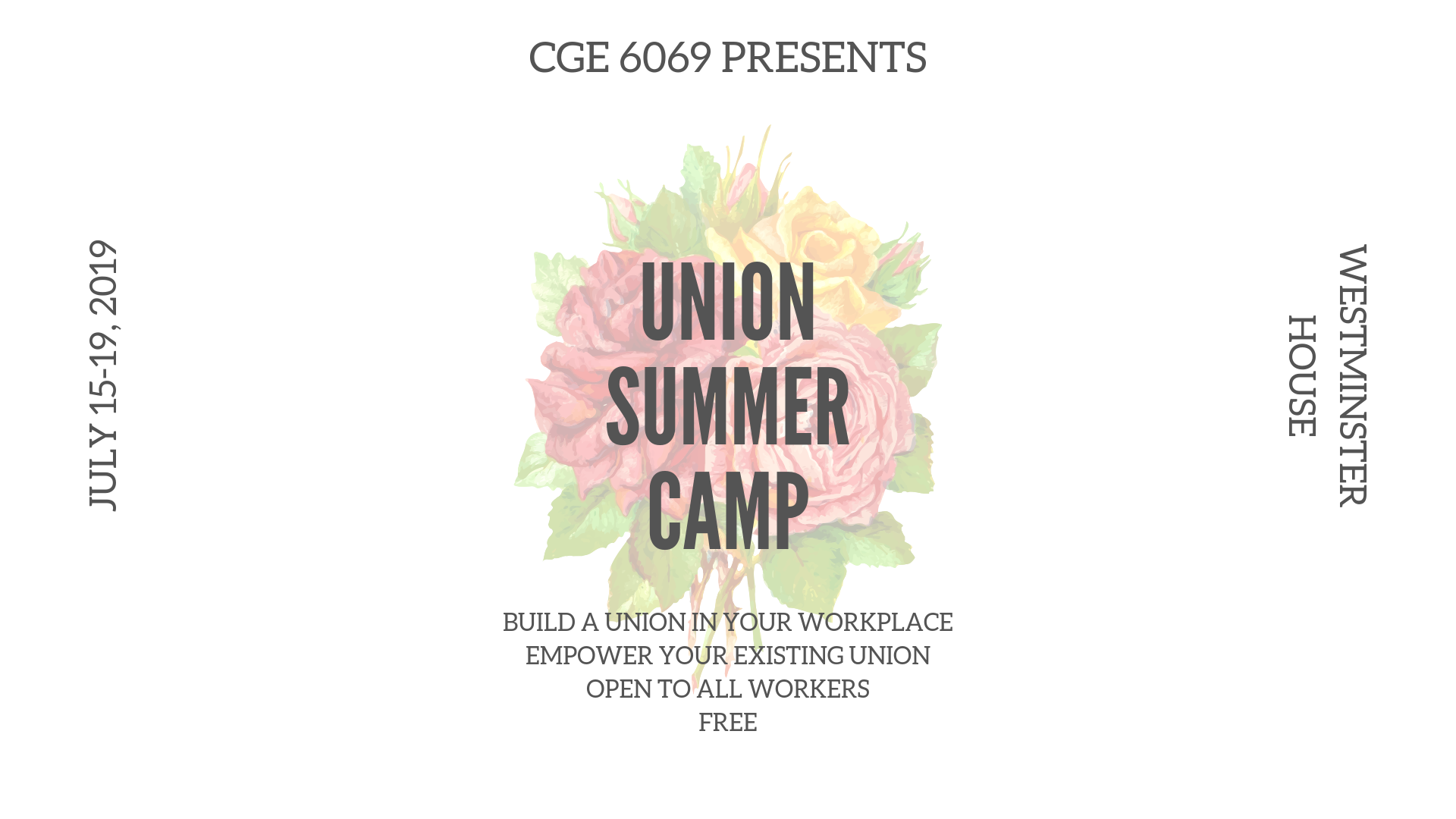 July 15-19, 2019. Westminster House
Schedule of activities below!
Want to form a union in your workplace, or build more power within an existing union?
CGE is holding a week-long series of workshops and discussions for workers of all stripes to gain the skills and know-how needed for just these tasks.
Our Union Summer Camp is structured for anyone to attend regardless of their occupation (except no bosses) or prior experience in organizing/activism.
You do not need any prior union experience. You do not need to be currently employed. You do not need to be a "factory worker" or "professional" worker in a formal industry. You do not need to be planning to form a union right now or a union in your workplace (you could be hoping to organize tenants and still find these workshops useful).
The activities are open and free for all (except bosses). Zoom videoconferencing will be used and an online version of each workshop will be available after the camp is closed.
Schedule of Activities
Monday, July 15 12:00-3:00 Westminster House
How To Unionize Your Workplace (forming organizing committees, identifying leaders & targets, forming tactics & strategies, and learning how to communicate with co-workers).
Tuesday, July 16 12:00-3:00 Westminster House
Power In The Workplace (models for organizing workers as "whole people," and strategic power analysis in the workplace).
Wednesday, July 17 12:00-3:00 Westminster House
Making A Plan For Victory (developing goals, tactics, & strategies for achieving victories on the job).
Thursday, July 18 12:00-3:00 Westminster House
Battle of the Story (forming powerful narratives to communicate values and goals for inspiring co-workers and potential allies).
Friday, July 19 12:00-3:00 Westminster House
Putting It All Together In A Conversation (learning how to effectively communicate the need to unionize with your co-workers).